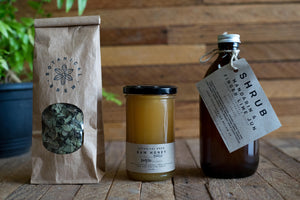 A combination of three complimentary products produced here at Botanical Brew.

Botanical Tea: Blended organic Gunpowder and Sencha Green Tea, native Strawberry Gum and Mountain Pepper.
Jun Shrub: Choose from the offerings of Jun Shrubs to either be enjoyed on it's own as a neat morning tonic, topped with soda or combined with the tea and sweetened with the honey for a beautiful botanical tea.