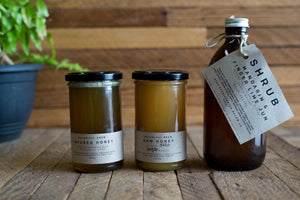 For the love of honey.
100% Australian honey which has been infused with a selection of native Australian botanicals.
Raw honey from the beehives scattered throughout the Geelong region that allowed Botanical Brew to exist. Each jar is unique to the postcode the honey has been harvested from. 

Cold extracted & coarse filtered. This honey will most-likely crystallise over time, which is a natural occurrence of raw honey.
Jun Shrub, made by further fermenting our Jun for a minimum of 4 months, creating an alcohol-free concentrate. 100% Australian honey & other botanicals are then blended to create a unique flavour combination.
Live & Unpasteurised, please keep refrigerated at or below 4 degrees C
Using a ~30ml shot topped up with soda water creates a non-alcoholic Jun - giving you up to 20 serves per bottle, and helps us fight the war on waste by reducing the amount of glass we use.
Can be used as a substitute for apple cider vinegar, salad dressing, as mixers for cocktails/mocktails.