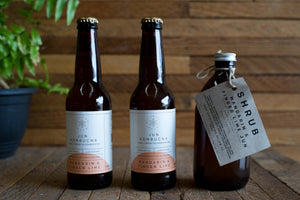 Combining the best of both.
Naturally at 4% alcohol, all of the Jun we make is free of any preservatives, artificial flavours or sulphites - creating a finish that generally sits on the slightly drier side.  The Jun serves as a wonderful stand alone conscious alternative social beverage and mixes well with our Jun Shrubs and other spirits to create unique and flavoursome botanical cocktails and mixers.
Made by further fermenting our Jun for a minimum of 4 months, creating an alcohol-free concentrate. 100% Australian honey & other botanicals are then blended to create a unique flavour combination.
Using a ~30ml shot topped up with soda water creates a non-alcoholic Jun - giving you up to 20 serves per bottle, and helps us fight the war on waste by reducing the amount of glass we use.
Can be used as a substitute for apple cider vinegar, salad dressing, as mixers for cocktails/mocktails.
Both products are Live & Unpasteurised, please keep refrigerated at or below 4 degrees C
By ordering this product, you confirm that you are over 18 years of age.