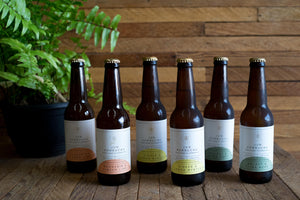 Naturally at 4% alcohol, all of the Jun we make is free of any preservatives, artificial flavours or sulphites - creating a finish that generally sits on the slightly drier side.  The Jun serves as a wonderful stand alone conscious alternative social beverage and mixes well with our Jun Shrubs and other spirits to create unique and flavoursome botanical cocktails and mixers.
Take a pick from our core line of products to create the 6 pack you'd like to enjoy.  Either have a straight 6 of Galaxy & Citra Hop, Ginger & Lemon Myrtle or Mandarin & Finger Lime.  
If you can't choose or would like to have a selection of each, choose the mix 6 and we will evenly provide you with two of each.
Live & Unpasteurised, please keep refrigerated at or below 4 degrees C
By ordering this product, you confirm that you are over 18 years of age.
The best Jun I've ever had!
I bought the mixed 6 pack a few weeks ago. It's great to be able to try a few different flavours. My favourite flavour has to be mandarine and lime. It's the perfect alternative if you want something other than beer or wine, with a very sophisticated feel. Absolutely delicious drinks.