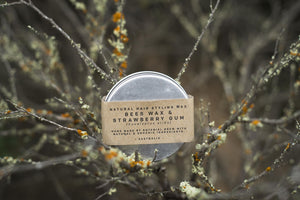 A medium-hold, low/mid sheen wax that can be used for fro's & mo's. Try also using as a moisturising balm. 
For initial application, take wax out of tin using the back of a fingernail & work a small fingertip's worth between the hands. Apply to dry or damp hair starting at the back of the hair, apply back to front to ensure all the hair is coated from root to end.
Ingredients: Geelong Cera alba (Beeswax), Certified Organic Virgin Cocos nucifera (Coconut Oil), Australian Extra Virgin Olea europaea L (Olive Oil), Australian Eucalyptus olida (Strawberry Gum Leaf).
Size: 55g